Va mira sau nu, cu o zi înainte de avanpremiera din România Fifty Shades of Grey a fost sold out în foarte multe cinematografe din țară!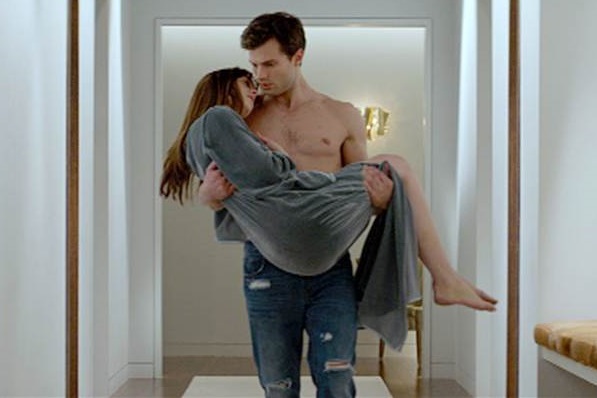 In luna lui Cupidon, românii au cedat tentației de a intra în lumea lui Christian Grey și a inocentei Anastasia Steele, și și-au rezervat și cumpărat bilete la primele spectacole disponbile, în special pentru avanpremiera de mâine, 11 februarie, dar și pentru primul weekend, cel de premieră, 13-16 februarie!
Bazat pe romanul vândut în peste 100 de milioane de exemplare traduse în peste 52 de limbi, inclusiv în română, scris de E L James, CINCIZECI DE UMBRE ALE LUI GREY se pare că e, așadar, cadoul preferat de îndrăgostiții din România de Valentine's Day 2015.
În 2015, de Ziua Îndrăgostiților, Christian Grey și Anastasia Steele, cuplul care a înflăcărat imaginația a peste 100 de milioane de cititori din toată lumea, prinde acum viață în interpretările lui Jamie Dornan și Dakota Johnson în ecranizarea romanului-fenomen cu același titlu.
Luke Grimes e Elliot, fratele lui Christian, Victor Rasuk e José, prietenul apropiat al Anastasiei, Eloise Mumford e Kate, prietena și colega de apartament a Anastasiei, Marcia Gay Harden e dr. Grace Trevelyan Grey, mama lui Christian, Rita Ora e Mia, sora lui Christian, Max Martini e Taylor,  bodyguardul lui Christian, Callum Keith Rennie e Ray, tatăl vitreg al Anastasiei, Jennifer Ehle e Carla, mama Anastasiei, iar Dylan Neal e Bob, soțul Carlei.
Cincizeci de umbre ale lui Grey e regizat de Sam Taylor-Johnson și produs de Michael De Luca și Dana Brunetti, alături de E L James, creatoarea seriei de cărți. Scenariul filmului e semnat de Kelly Marcel.

CELE MAI TARI NUME ÎN MUZICĂ
Coloana sonoră a filmului este semnat de unul din "greii" de la Hollywood, Danny Elfman, cel care a compus teme muzicale care au făcut istorie, precum cea a serialelor-cult Desperate Housewives și The Simpsons.
Albumul cu muzica filmului conține 16 piese, o parte aparținând unor clasici precum Frank Sinatra ("Witchcraft"), The Rolling Stones ("Beast of Burden") sau Annie Lennox ("I Put a Spell on You (Fifty Shades of Grey)"), dar și piese noi ale unor staruri de azi, precum Ellie Goulding ("Love Me Like You Do"), Sia ("Salted Wound"), Skylar Grey ("I Know You"), Jessie Ware ("Meet Me in the Middle"), Laura Welsh ("Undiscovered"), Vaults ("One Last Night"), AWOLNATION ("I'm on Fire") și două piese noi ale trupei The Weeknd ("Where You Belong" și "Earned It (Fifty Shades of Grey)"), aceasta din urmă fiind regizată de însăși Sam Taylor-Johnson, regizoarea filmului. Beyoncé a înregistrat cu Boots, special pentru lansarea trailerului filmului, un remix cu piesa ei "Crazy in Love", precum și un remix al piesei ei din 2013, "Haunted (Michael Diamond Remix)".
CADOURI EXCLUSIVISTE – MAȘINI ȘI ELICOPTERE HIGH STYLE
Sufletul-pereche al Anastasiei, Christian, are o flotă impresionantă de automobile AUDI la dispoziție, dintre care amintim doar modelele R8, S8, precum și noul A3, pe care i-l face cadou Anastasiei, și care nu a fost pus pe piață spre vânzare decât după ce s-au terminat filmările.
Christian e posesorul nu numai al unor mașini de lux, ci și al unui elicopter care este cel mai recent model EC130, cel mai mare elicopter care poate fi deținut de o persoană privată, și care costă în jur de 2 milioane de dolari. Pentru scena în care acesta îi face o surpriză Anastasiei și îi oferă o plimbare privată cu elicopterul, echipa de decoratori au amenajat interiorul aparatului de zbor cu cele mai elegante elemente în stilul personal al lui Christian.

SCENOGRAFIE A LA TARANTINO ȘI LOCAȚII SECRETE CU NUME DE COD
Din cauză că filmul are la bază una din cele mai populare cărți din toate timpurile, dar și din cauza numelor angrenate în producție, echipa de producție a trebuit să evite riscul ca locațiile de filmare să fie blocate de mulțimile de curioși, așa că tot procesul de producție s-a desfășurat în condiții de securitate extreme Titlul real, FIFTY SHADES OF GREY a fost interzis a fi folosit pe platou, în discuțiile profesionale sau personale ale celor implicați, precum și în toată corespondența legată de producție. S-a folosit, în schimb, numele de cod The Adventure of Max and Banks, Max fiind numele câinelui scriitoarei E L James, iar Banks, numele cățelușului scenaristei, Kelly Marcel.
Decorurile au fost realizate de soții David și Sandy Wasco, cei doi fiind cei care au dat stilul inimitabil al tuturor filmelor lui Quentin Tarantino.
Pentru a păstra fidelitatea față de carte, dar și pentru a avea atmosfera nu foarte însorită, filmările au avut loc în Vancouver, British Columbia și, deși povestea din roman se petrece în luni de vară, filmul a fost turnat începând cu luna decembrie, ceea ce, într-un final, a făcut ca ambianța să fie cea sumbră evocată de E L James în romanul său. În total, au fost folosite 55 de locații de filmare.

DE LA CARTE LA MARELE ECRAN
Cartea are un stil foarte vizual, dar problema cea mai delicată a fost găsirea celui mai potrivit mod cinematografic pentru a transpune gândurile Anei, care are o serie de monologuri interioare în roman. Dar, pentru că regizoarea, Sam Taylor-Johnson, e  și cineastă, și fotografă, și artist vizual, a reușit să sesizeze și să integreze în imagini și în poveste elementele simbolice din carte: cravata, mașinile, Camera Roșie, cele care îl definesc pe Christian așa cum e el. Universul său a fost populat în film cu lucruri care vorbesc despre el și despre eleganța stilului său, nu doar aruncate pur și simplu în decor.
Cât despre natura explicit sexuală a cărții, regizoarea a ales să o includă în film astfel încât să confere poveștii cinematografice onestitate și semnificație, totul transpus frumos, elegant, cu stil.
Christian și Anastasia sunt doi oameni care se întâlnesc printr-o întâmplare a sorții, și descoperă apoi că fiecare devine punctul vulnerabil al celuilalt. El nu poate scăpa de ea, iar ea nu are cum să fugă de el. Acesta e motivul pentru care milioane de fani din toată lumea au rezonat la unison odată ce au citit povestea celor doi. E ca un basm, Frumoasa și Bestia, sau Cenușăreasa zilelor noastre.
Sursa : Urban.ro 
Eng.
In the month of Cupid, Romanians have succumbed to the temptation to enter the world of Christian Grey and Anastasia Steele innocence, and have booked and bought tickets for the first show to available, especially for a preview of tomorrow, 11 February, and the first weekend at the premiere February 13 to 16!
Based on the novel sold over 100 million copies translated into over 52 languages, including Romanian, written by EL James Fifty Shades of Grey apparently is therefore favorite gift for lovers of Romania Valentine's Day 2015 .
In 2015, Valentine's Day, Christian Grey and Anastasia Steele, the couple who ardent imagination more than 100 million readers worldwide, now catch performances by Jamie Dornan life and Dakota Johnson in the film version of the novel with the same title-phenomenon.
Luke Grimes is Elliot's brother Christian, Victor Rasuk e José, close friend of Anastasia, Eloise Mumford Kate's friend and roommate Anastasia, Marcia Gay Harden is dr. Grace Trevelyan Grey, Christian's mother, Rita Ora is Mia sister Christian, Max Martini's Taylor's bodyguard Christian, Callum Keith Rennie is Ray, stepfather of Anastasia, Jennifer Ehle Carla's mother, Anastasia, and Bob Dylan Neal's husband, Carla.
Fifty Shades of Grey is directed by Sam Taylor-Johnson and produced by Michael De Luca and Dana Brunetti, along with EL James, creator of the series of books. The script is signed by Kelly Marcel.
The hottest names in MUSIC
The soundtrack is signed by one of the "heavyweights" in Hollywood, Danny Elfman, who composed the musical themes that have made history, such as the cult TV series Desperate Housewives and The Simpsons.
The album contains 16 songs to film music, some belonging to classics like Frank Sinatra ("Witchcraft"), The Rolling Stones ("Beast of Burden") or Annie Lennox ("I Put a Spell on You (Fifty Shades of Grey)" ) and new parts of today's stars such as Ellie Goulding ("Love Me like You Do"), Sia ("salted Wound"), Skylar Grey ("I Know You"), Jessie Ware ("Meet Me in the Middle "), Laura Welsh (" Undiscovered "), Vaults (" One Last Night "), AWOLNATION (" I'm on Fire ") and two new songs the band the Weeknd (" Where You Belong "and" Earned It (Fifty Shades of Grey) "), the latter being directed by Sam Taylor-Johnson herself, film director. Beyoncé recorded with Boots, especially for the launch trailer of the film, a remix of her song "Crazy in Love" and a remix of her 2013 "Haunted (Michael Diamond Remix)".
EXCLUSIVE GIFTS – HIGH STYLE MACHINES AND HELICOPTERS
Soul-mate of Anastasia, Christian, is impressive fleet of cars AUDI available, among which only R8, S8, and the new A3, which makes gift Anastasia, who has not been on the market for sale only after they finished filming.
Christian is not only the owner of luxury cars, but also of a helicopter is the latest model EC130, the largest helicopter that can be owned by a private person, and that costs about $ 2 million. For the scene where he makes a surprise Anastasia and give him a private helicopter ride, decorators team arranged inside the aircraft with the finest elements of Christian personal style.
SCENOGRAPHY A LA Tarantino codenamed secret locations
Because the film is based on one of the most popular books of all time, but also because of the names involved in manufacturing, the production team had to avoid the risk of filming locations are blocked by crowds of curious, so all the production takes place under extreme security real title, Fifty Shades of Grey was forbidden to be used on the plateau, professional or personal discussions of those involved, and in all correspondence related to production. Was used, instead, codenamed The Adventure of Max and Banks, Max the dog's name writer EL James, and Banks, puppy name screenwriter Kelly Marcel.
The sets were made by David and Sandy Wasco wives, two were those who gave inimitable style of Quentin Tarantino's films all.
To maintain fidelity to the book, but also to be not very sunny atmosphere, filming took place in Vancouver, British Columbia, and although the story of the novel takes place in the summer months, the film was shot from December, which that, in the end, made the grim atmosphere is evoked by EL James in his novel. In total, 55 sites were used for filming.
From books to the big screen
The book has a very visual style, but the most demanding task was to find the most appropriate way to translate thoughts Ana film, which has a number of interior monologues in the novel. But because director Sam Taylor-Johnson's and filmmaker, and photographer, and visual artist, was able to notice and integrate images and symbolic elements of the story book: tie, cars, Red Room, those that define Christian as he is. His universe was populated with things in the film talking about it and elegance of his style, not just simply thrown decor.
As sexually explicit nature of the book, the director chose to include in the film so as to give meaning honesty and cinematic story, everything transposed beautiful, elegant style.
Christian and Anastasia are two people who meet by chance of fate, and then discover that each is the Achilles heel of the other. He can not escape it, and she has no way to escape it. That's why millions of fans worldwide have resonated in unison once they read the story of two. It's like a fairy tale Beauty and the Beast, Cinderella or today.